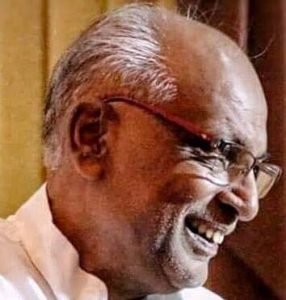 When Shri Ramanand ji Shastri agreed to the demand of residents of Bangur Nagar to start Yoga classes in the area, the responsibility to conduct classes on regular basis was bestowed on Shri Madhusudan Ji Seksaria. Since 17th November 1981, Shri Madhusudan Seksaria (age 65) has been doing his duty to carry forward the task of his Guru Shri Shastri ji, and thousands of people have benefitted from the efforts that he has made.
His efforts have resulted in the Yoga Niketan today becoming a well-recognized and well-organized Yoga Institute in Mumbai, with all branches of Yoga viz. Raja Yoga, Gyan Yoga, Bhakti Yoga, Karma Yoga along with Hatha Yoga, well addressed here.
His able guidance has encouraged a lot of Yogabhyasis to become Yoga teachers and spread the message of Yoga among the masses. He has never allowed himself to be called Guru by his fellow students, although the knowledge that he commands in the field of Yoga is enormous with very few in the field having that ability.
Shri Madhusudan Seksaria was born in Mumbai to a business family. His father Late Shri Magtulal Seksaria himself was a disciplined man with values that have come to his son. Madhusudan ji has his own business of spare parts in the field of textile industry. It is his ability only to maintain a balance between the two fields while also maintaining very high standards in both of them.
We all abhyasis at Yoga Niketan look to him for his guidance and blessings in future as well.