Vyaghrasana (Tiger Pose) Steps & Benefits 
'Vyaghra' means 'Tiger' in Sanskrit and the asana is so called as it emulates the stretching movement made by a tiger when it wakes up from sleep. One of the great lower back stretches, 'Tiger Pose' or the 'Vyaghrasana' is done on fours where the spine is stretched deep, giving a great opening to the hips and the thighs. Spine, hip, and leg joints are loosened and spinal nerves are toned. Vyaghrasana is especially beneficial for women after childbirth as it tones the female reproductive organs (categorized under Post Natal Yoga). This asana reduces the excess fats from the thighs and hips.
Vyaghrasana Steps
Spread a Yoga Mat and sit in Vajrasana on it with the eyes closed and palms on the knees.
Come in the starting position for Marjari Asana and look forward.
Inhale while arching the back downwards and straighten the right leg.
Bend the right knee, look up and bring the toes towards the back of the head.
Balance the body in this position and hold the breath for a few seconds.
Straighten the right leg.
Exhale and bend the head down, bringing the right knee down under the hips.
Arch the back up and bring the right knee between the arms.
Try to touch the nose with the knee.
The right foot should not touch the floor.
Hold this position for a few seconds holding the breath outside.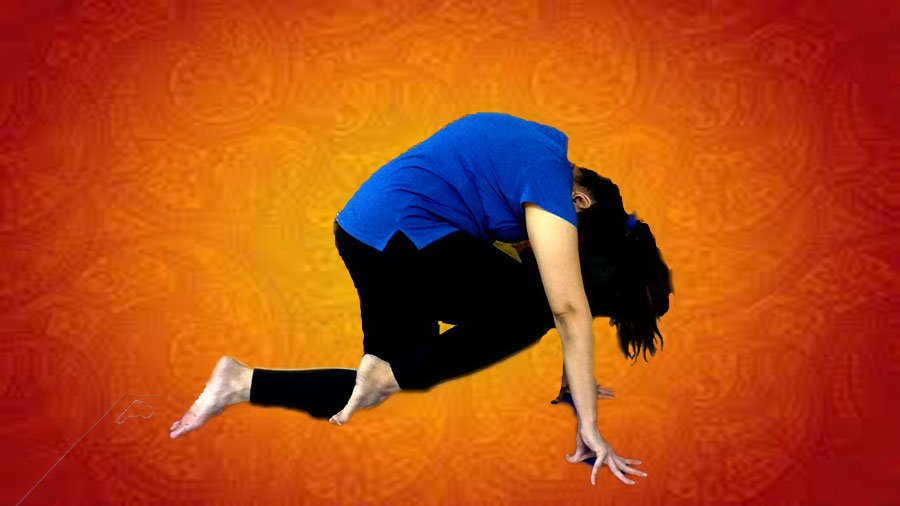 Stretch the leg and moving the foot straight back.
Bend the knee and continue the swinging movement.
After practicing the swinging movement 3 to 5 times on one side, relax in Marjari Asana.
Repeat the same movement with another leg.
Vyaghrasana Pose Awareness
Throughout the practice of Vyaghrasana, the awareness should be maintained on alternate forward and backward stretching of the spine. The awareness should also be maintained on alternate compression and stretching of the chest and abdomen.
Vyaghrasana Contraindication
People suffering from a migraine, weak wrists, knee problems or neck pain should avoid this asana.
Vyaghrasana Benefits
Tiger Pose or Vyaghrasana tones the spinal nerves.
This Yoga Asana relaxes the sciatic nerves hence relieving sciatica.
Vyaghrasana, the tiger pose loosens up the legs and hip joints.
It stretches the abdominal muscles which improve digestion.
Vyaghrasana (Tiger Pose) reduces the weight from hips and thighs.
It tones the female reproductive organs.
This Yoga exercise is highly recommended for women after childbirth.
Vyaghrasana (Tiger Pose) can be categorized under these series –
Do Vyaghrasana with the Marjari Asana or set of Shashankasana-Bhujangasana for best results.