Parkinson's Disease – Symptoms & Yoga Therapy
Parkinson's Disease (PD) is a common progressive neurodegenerative disorder that affects movement. It has affected a large number of people throughout the world and is mainly caused by progressive damage to the brain over the years. In the early stages of Parkinson's disease, the patient's face may show little or no expression. His arms may not swing while he is walking. Further, his speech may become slurred. Parkinson's disease symptoms worsen with time.
Parkinson has been said to be the second most common neurodegenerative disorder and the most common movement disorder.
Parkinson's Disease Common Symptoms 
Spontaneous shaking of body parts
Rigidity (Stiffness in muscles)
Loss of automatic movements and slowed movements
Speech and writing changes
Anxiety and depression
Loss of balance and impaired posture
Decline in memory or other thinking skills
There is no known cure for Parkinson's disease, but Yoga therapy for Parkinson's Disease can help manage its symptoms. It can help by dealing with many aspects of Parkinson's disease effectively as its benefits include improved muscle strength, flexibility, balance, overall fitness and quality of life.
How Yoga Therapy can play an important role in Parkinson's Disease –
Regular Yoga practice can improve functional mobility and influence the way how a person with PD walks.
Research shows that Yoga can play a great role in improving balance (tandem, one-leg) and an associated decrease in a person's fear of falling.
Gains in lower-body strength occur for Parkinson's Disease patients following yoga practice which further results in improved postural stability.
Improvements in flexibility and range of motion (ROM) are important since rigidity is a common clinical manifestation in PD.
Research further shows that by the practice of Yoga, improvements in flexibility and range of motion of the shoulder, hip, and spine are made better.
Improved shoulder and spinal flexibility from yoga support a more upright posture.
The calming effect through yoga may lessen stress, enhance relaxation, and benefit sleep in Parkinson's Disease patients.
People with PD have exhibited apathy and fatigue which also can be helped through yoga. Since the mind and the body are connected, any mental state benefits can tangibly translate into motor benefits.
Yoga creates self-awareness and good habits that make one learn to hold his body properly in a standing posture.
Certain Asanas and Pranayama, that can help in dealing with Parkinson's Disease, have been explained herewith –
Yoga Asanas for Parkinson's Disease
Pawanmuktasan series 1
Regular practice of some simple exercises of Pawanmuktasan series 1, also called 'Anti-Rheumatic group' is aimed at removing the energy blockages from the body and prevent the new one from forming. It is aimed at loosening up the body joints and can be a great help for people suffering from Parkinson's Disease. These exercises are simple, gentle and comfortable and can be easily performed by the people suffering from PD. You can read in detail about these exercises in these posts –
Pawanmuktasana Series1 – Part 1 – Toes & Ankle Bending
Pawanmuktasana Series 1 – Part 2 – Ankle & Knee Exercises
Pawanmuktasana Series 1 – Part 3 – Butterfly Yoga Asana & Hip Rotation
Pawanmuktasana Series 1 – Part 4 – Hand & Wrist Asanas
Pawanmuktasana Series 1 – Part 5 – Shoulder & Elbow Asanas
Pawanmuktasana Series 1 – Part 6 – Neck Movements
The people with Parkinson's should practice this asana without going on toes. This asana stretches and expands the whole body. This asana has a stretching and strengthening effect on back, shoulders and leg muscles. This standing pose helps improve balance and posture. It helps strengthen the thighs, knees, and ankles.
Uttanasana is a great pose for people suffering from anxiety and depression. This calming posture helps strengthen your legs, knees, and hips. Its regular practice relieves the stiffness of your spine, back, and neck.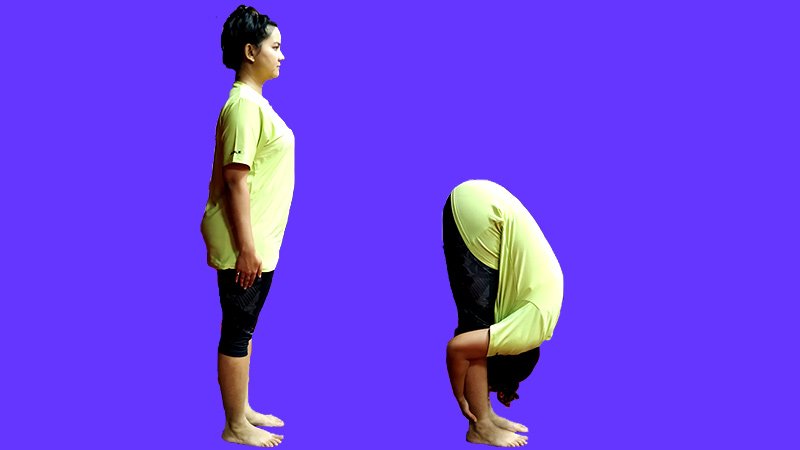 one of the most graceful poses in yoga, Virabhadrasana, also called Warrior Pose II, strengthens the arms, shoulders, thighs and back muscles. This is a classic standing pose that helps strengthen your legs and ankles while increasing your stamina.
Supta Baddha Konasana, also known as Reclined Bound Angle Pose, or Reclined Cobbler's Pose, is a great relaxing yoga pose that relieves stress levels and cures anxiety. This pose stretches the groin and inner thigh muscles and works as a hip opener. Supt Baddha Konasana relieves the daily stress through enhancing the blood flow all over the body which makes you feel refreshed and energetic.
Pranayama for Parkinson's Disease
Yoga Pranayamas are quite important when we deal with Parkinson's Disease,  as they improve the breathing capacities and help to focus. They bring about mental stability. The neuromuscular system is immensely benefited, and motor functions are developed. Although all pranayama plays an important role in PD therapy, Nadi Shodhana Pranayama or the Alternate Nostril Breathing can be best as a therapy in Parkinson's disease.
Nadi Shodhana Pranayama is not just a breathing exercise, but a yogic technique that involves controlling of subtle 'Pranic energies' (or vital force or bio-energies) of our body flowing through specific channels.  Its benefits include higher concentration, tranquilizing the mind, purification of blood and psychic network, harmonizing the pranas, balancing the two hemispheres of the brain, regularizing the release of hormones, etc.
Shatkarm Kriyas
Shatkarm Kriyas (Cleansing processes) can play a very important role in PD therapy as they help in internal cleansing and keep the body free of toxins. Jalaneti and Kapalbhati keep the sinuses clean, and you feel light and relaxed.
Yoga therapy for Parkinson's management can be very recuperative and rejuvenating. One should consult or practice under a qualified and experienced yoga teacher with in-depth knowledge about what works and what does not for him while dealing with the disease. Also, it is necessary to consult and keep one's physician updated about the yoga postures and appropriate exercises.
Yoga does not claim to cure any condition like PD here. But indeed it is a life-transforming option for more than most people to experience a holistic way of living and dealing with Parkinson's.